---
back to homepage
Canoel International Energy (CIL.V) - preparing for its next stage of development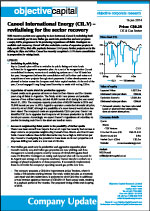 Full Report by Will Purcell , Jan 21, 2014


Download full report
Click for previous reports on this company
Questions? |

Key Points:


Canoel is revitalising its public listing
Key to Canoel's plan will be to revitalise its public listing and raise funds sufficient for its aggressive expansion plan. As a part of its reorganisation Canoel consolidated its shares, warrants and underlying options on a 1-for-10 basis late last year. Management believes the consolidation will aid further cash raises and acquisitions of new projects through stock payments. Further developments are planned to better access the European and Asian capital markets. At the end of the year, Canoel engaged Hong Kong based Somerley to assist with raising C$9m.
Argentinian oil assets slated for production upgrades
Canoel continues to generate oil revenue from its Don Alberto and Don Ernesto producing oil fields in Argentina. The fields, which have proven and probable reserves of two million barrels, yielded 40,695 barrels of oil during the year ended March 31, 2013. The company expects production of 60,000 barrels in 2014 and 75,000 barrels per year in 2015. Argentina operates a controlled domestic oil price, currently set at US$67, although the possibility of a move toward world prices has been raised. The company's costs are approximately C$2m per year. Canoel has identified C$1.1m in upgrades that it expects will increase production by 35,000 barrels per annum. Accordingly, we expect Canoel's Argentinean oil subsidiary to provide increasing cash flow in the short and medium terms.
Success in neighbouring fields points to the possibility of further upside
There have been unconfirmed reports that an oil major has recently had success at deep horizons on properties neighbouring Canoel's Don Alberto and Don Ernesto fields. Canoel believes these initial discoveries may be as high as 500 barrels per day. Canoel is investigating the potential at these levels on its own properties and proposes drilling two wells at a total cost of C$5.9m.
New Italian gas assets now in production and aggressive expansion plans
Canoel's recently acquired Italian gas properties are now yielding cash flow. Management currently projects monthly revenue of C$165,000 against fixed costs of C$54,000. Contingent on raising cash beyond what will be required for its Argentinean strategy and corporate overhead, Canoel intends to embark on a strategy of phased expansions of these properties. If successfully implemented, these could treble the company's operating natural gas profits over time.
Strategy remains unchanged but now with evidence Canoel can deliver
The company remains committed to acquiring small or distressed assets with proven or producing reserves that it can substantially enhance with minimal capital. Canoel has a senior board from the Italian energy sector that offers extensive international business and governmental exposure. Its recent acquisition has demonstrated it can turn those connections and experience into productive acquisitions that can be enhanced significantly with the proposed expansion projects.
Opportunities in Libya and Nigeria beckon
Canoel established an office in Libya early in 2013 and is evaluating potential opportunities. Libya is currently the 7th largest producer of oil in OPEC. Late in 2013, Canoel become a recognised trader of crude oil with the Libyan National Oil Company – an important first step in their development plans in the country.
Attractive valuations for current shareholders even in these distress times
Our valuation model, based on current production augmented with the proposed expansions over the coming year, estimates Canoel to be worth C$2.01 per consolidated share. However, achieving these valuations will require raising considerable capital in very difficult markets. This will likely be highly dilutive and we have reflected the impact of this in our distressed valuation. Based on the necessary dilution to achieve Canoel's development plan, we estimate Canoel to be worth C$0.33 per share to current shareholders. Should management succeed in raising cash for the proposed Argentinean and Italian upgrades as planned, our optimistic assessment values the company at C$0.65 per consolidated share.
Get full report
---